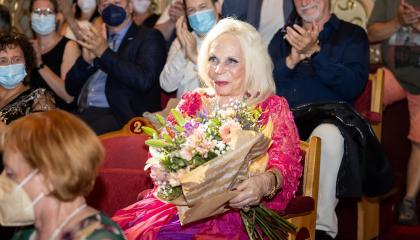 We are meeting Yvonne Kálmán, daughter of the legendary composer of operettas - Emmerich Kálmán, in a beautiful Párisi Udvar Hotel in Budapest while we are full of impressions from the three dress rehearsals of Kálmán's operetta DUCHESS OF CHICAGO that wereheld in July in the State Theatre Košice. Naturally, our discussion mainly focused on the operetta and Kálmán's legacy for the present day.
Duchess of Chicago, what does it mean for you personally?
Good question, my parents in fact met thanks to Duchess of Chicago. Of course, it has a great importance for me. My mother used to tell the story - how she met my father during this operetta. Though I haven't seen Duchess of Chicago for a long time, it wasn't presented, I always listened to its music.
Australian chief conductor Richard Bonynge, an expert in Kálmán's music and your friend in the 90s in Leipzig, made Duchess of Chicago CD issued by DECCA as part of the cycle Degenerated Music. Since then, we have seen renaissance of this operetta. Where have you seen this show recently?
Several times in Vienna, in various theatres, in Italy it was Trieste, several stages in Munich, and one interesting production was in Budapest.
Kálmán composed this work in late 20s, world premiere was in 1928 in Vienna - Theater an der Wien. Those were politically and socially hard times, Nazism was growing. Considering what we have been through in recent period, the piece calls for tolerance. Do you see it the same way, your father did he have the same view?
Yes, in addition to its joyful and dynamic character, it shows contrast between two worlds – betweenarchconservative Prince Boris and eccentric American Mary Lyoyd. Eventually, the two worlds merge and it brings happy end, which my father really wanted. But there was no happy ending at the end.
These days we go through number of conflicts, conservativism against liberalism and that is why the work is so up to date. In Act II, Mary says to Prince Boris that ʿCharleston is in fact nothing but American Csardasʿ and, in my view, this is the most moving moment of the operetta. Suddenly, both the worlds dance together, gypsy first violinist plays together with saxophone.
Yes, music merges dances and dancers. It brings synthesis of the two music styles and worlds.
I have a question regarding its premiere in Vienna. That time, Berlin was the centre of operetta – why your father did the premiere in Vienna rather than Berlin?
Because Vienna was his second home, following Budapest.
You told me an interesting and important story on how Emmerich Kálmán and his family, including you, run away from Austria in 1938. Did you emigrate to Paris and then to USA, how was it?
It all began with the work composed by my father. Kaiserin Josephine was rather opera with many singing parts, not an operetta. None of the theatres wanted to present it. So, the premiere was planned in Zürich Opera. To visit the premiere, he got a travel permit for him, his wife and three kids, and our Hungarian cook who went with us. In this way we got to Zürich and then to Paris. We had all my father's things, furniture, literally everything, taken to Paris. We rented a beautiful house and brought there all the staff my father was collecting, all his life. A German general, sent by Hitler, came to Paris to my father and said: Maestro, Führer asks you to come back to Vienna, he will appoint you as honorary Arian. My father replied – but who will guarantee my life? General replied – me personally. And my father thought for himself – and who will guarantee your life? He thanks him and the other day were in Genova – and on theway to America by boat. The travel wasn't easy, my father did not speak English, he was almost sixty and he has never been outside Europe – he was a true European, always when he had to travel to London, it was difficult to him. Those were hard times. American film studios MGM bought copyrights to film his works, but films were never made. They promised him that he will do film music for various films but then they always chose someone else. After one year and half we left California for New York, my father was very disappointed. In the meantime, German stole from our Parisian villa everything we had, all his things, paintings, everything. Those things would be very precious today, but we don't know where they are. And so, we travelled across America by car. My mother was driving. All of us kids we were in the car with our cook Mrs Pervič. Then we lived in New York, my father wrote an operetta Marinka.It was presented for long at Broadway, it was a great success. I was visiting school, just like my brother and siter. Few years later my father got hard stroke, he couldn't move. Despite, he continued to compose.
What happened with your family after the war?
After the war we moved to Paris. A week after my father celebrated his 71, he died. The last piece he wrote, still exists – it is called Arizona Lady. My father went through the situations such as people who avoided him during the war, came back telling him how much they appreciate him and like him. Suddenly my father was the most presented and best-known composer in Europe. That made him happy, though his condition has become difficult, but he never complained. The worst thing he experienced was that he learnt how many members of his family, whom he loved so much, were murdered in concentration camps. This caused his heart attack and later stroke. That's life. But he has left so much for us. Number of beautiful pieces which bring joy.
Yet during rehearsals of the operetta, many people asked me – isn't that a musical? We worked with sound system, still it is not a musical. It is an operetta, predecessor of musical. Especially in 40s, it was the golden age of musical at Broadway. This implies my next question.Your father never visited America before 1928.How is it possible that he could write this amazing American music: Jazz, Charleston, Foxtrot?
It is just one of the things my father was able to process as a musician. Just take Dutch tone in Das Hollandweibchenor very Indian tone in Die Bajadere - a beautiful piece by my father. Or those very American tones in the Duchess of Chicago or Arizona Lady. Further, let's mention French character of music in Das Veilchen vom Montmartreand Hungarian esprit which is present practically in all his works. Those were his masterpieces, he loved tones full of colours. And of course, he wrote the whole orchestration himself. That was his real greatness.
Yes, Csardas and Waltz can be heard in the Duchess, dances and music from old good operetta. Now, I got an idea that this conservative Prince Boris from Sylvaria – isn't he actually your father, the representative of the old world who outdone himself and opened to the new world?
Yes, we spoke about that before. When I'm listening to Those Were the Days! my eyes are full of tears. I think that was my father's nature.
Your father always wrote operettas that expressed joy of life and certain melancholy at the same time. He was probably the most melancholic of all operetta composers.
Yes, you're right.
Laughter Under Tears: Emmerich Kálmán - your father's biography was issued. What operetta meant then and what does it mean today?
Hard to answer the question. Operetta is important only for those who love it. Otherwise, it is not important.
Let's get back to Košice. In September, we'll have a chance to see you once again at the premiere of the Duchess of Chicago. Despite that, could you describe your impressions of this adaptation, your impression of Košice?
I knew Košice from my friends' pictures. A beautiful place with stunning Old Town. True gem that should be registered as UNESCO heritage. It is so amazingly far from everywhere. Probably that's why Košice managed to keep its original look. Fortunately, shopping centres are outside the town and that helped to preserve the historical character of the place. No tramps on Main Street, and I'm very thankful for that. You feel like in a pictorial book, a unique place. I've travelled a long way; this is my first travel after the pandemic. The show was fantastic, perfect tempo, chief-conductor perfect as well, great musicians, costumes, as a whole perfect. Excellent direction, great singers, both castings were excellent. It was a great success. And applause, applause, applause, applause. Singers, actors, and dancers really deserved it. Both the shows were perfect.
Yvonne, thank you for the interview. We will be honoured to welcome you back in Košice.
Stanislav Trnovský, dramaturge at Opera Company ŠDKE