A tenderly tragic poetry about clash of civilizations, war and violence.
Premiere

Lenght of Performance

120 minutes with break

Place of Performance

Malá scéna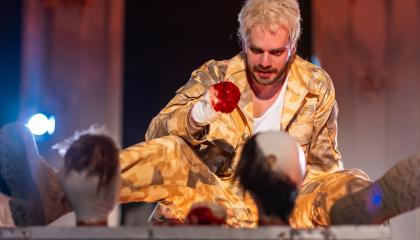 A play Titus Andronicus stands at the beginning of W. Shakespeare´s great work. It is actually his first tragedy (before that he wrote one comedy and one historical drama). It is not often staged ( in Slovakia it´s only the second adaptation ), while discussing the falling Roman Empire, its threat from barbarians, war and clash of civilization, the origin of evil, violence and cruelty in man it seems to be more than current. In an idea plan it brings a captivating picture about betrayal and revenge, the bloodlust of power and the fateful fall of protagonists. In the play, Shakespeare follows up on the great works of ancient drama. However, the motif of revenge takes place on the background of social upheavals and, as experts of Shakepseare´s work state, it is also a tragedy of the state. The production is at the same time an introduction to the non-representative works of English dramatist, an attempt to depict a madness of the mechanism of power and the moral failures of individuals in modern language.
| | |
| --- | --- |
| Directed by and adaptation: | Anton Korenči |
| Dramaturg&: | Peter Himič |
| Scenography: | Ondrej Zachar |
| Costumes: | Silvia Korenči Zubajová |
| Musice: | Jozef Vlk |
| Choreography: | Andrej Petrovič |
| Masks: | Juraj Steiner |
| Assistant director: | Martin Stolár |
| | |
| --- | --- |
| SATURNINUS: | Andrej Palko |
| BASSIANUS: | Juraj Zetyák / Michal Novodomský, a.h. |
| TITUS ANDRONICUS: | Matej Marušin |
| MARCUS ANDRONICUS: | Jakub Kuka |
| LUCIUS: | Oliver Asztalos, a.h.* |
| QUINTUS, MARTIUS: | Šimon Širilla, a.h.**, Juraj Štefanišin, a.h.** |
| YOUNG TITUS: | Daniel, Wolczko, a.h. |
| DEMETRIUS: | Tomáš Diro |
| CHIRON: | Martin Stolár |
| ARON: | František Balog / Peter Kočiš, a.h. |
| TAMORA: | Dana Košická |
| LAVINIA: | Jana Balková, a.h.*** / Laura Jankurová, a.h.*  |
| NURSE: | Beáta Drotárová |
| MESSENGER / JESTER: | Peter Cibula |
* - students of VŠMU Bratislava
** - students of Conservatory Košice
*** - students AU Banská Bystrica
Press news
NAPÍSALI O PREDSTAVENÍ: