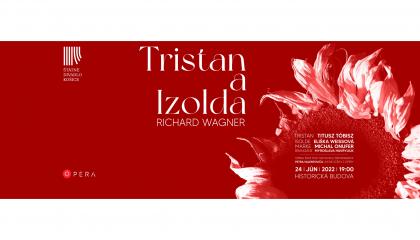 The concert version of the scenes from Wagner's opera Tristan and Isolde presenting local and guest artists. The premiere of the opera of the State Theatre Košice, orchestrated by the chief conductor Peter Valentovič, will be introduced on Friday – June, 24 in the historical building of ŠDKE. One of Wagner's most presented operas. Scenes from the opera will be interpreted by Eliška Weissová, a guest soprano from the Czech Republic, local soprano Titusz Tóbisz, local mezzo-soprano Myroslava Havryliuk, and local bass Michal Onufer.
"Musical drama Tristan and Isolde has been presented by the leading opera houses since its first historical performance in 1865. Despite having a relatively small orchestra pit, the opera house in Košice has decided to bring Wagner's music at the gala-concert Úcta hrdinom back in autumn 2020. Isolde's Love Death was performed right in front of the opera house. The passion delivered by the orchestra and the audience inspired us to go on with this unique opera. Covid pandemic brought some dramaturgical flexibility and so we have decided that individual scenes will be played by the musicians while the orchestra will be placed on stage allowing a larger ensemble and better acoustics; adequate for Wagner's music. I am very happy that our local tenors Titusz Tóbisz and Michal Onufer have decided to study the role of Tristan and King Marke. The audience will further see Czech drama soprano Eliška Weissová as Isolde and local mezzo-soprano Myroslava Havryliuk as Brangäne. The concert brings the scenes from Act I and III, a large part of Act II including Tristan and Isolde's great Love Duet", stated Opera Director, Roland Khern Tóth.
The scenes from Tristan and Isolde were prepared in concert version or for streaming purposes, yet during the first wave of the pandemic. Intensive rehearsals with the orchestra were done yet in autumn 2020, during the closure. Then, the premiere was postponed several times, involuntarily due to lockdowns or singers' sick leave. Now, Tristan is back featuring local stars, except for Isolde, and ŠDKE orchestra, which has studied Wagner's narcotic music, intensively, for the third time. How is it like for the chief conductor to study the piece three times in two years? Is it an advantage, considering the complexity of this orchestral part? "Some time has passed from intensive rehearsals; the orchestra thus had a chance to digest the music and get used to it. Time lapsed and we started to rehearse the overture the second time. Many parts remained unchanged, just as we practiced before. Tristan's score is drafted very transparently. It offers incredible marvellous colours. It is more intimately conceived compared to other Wagner's operas. For example: brass instruments are less engaged, mostly doing ecstatic climaxes or underling fine shades of Brangäne's part. Quite a challenge for the orchestra and a pleasure to examine intensively one of Wagner's masterpieces", says Peter Valentovič chief conductor, ŠDKE Opera.