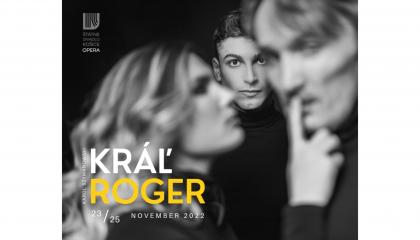 First premiere of this season for the Opera of State Theatre Košice on Wednesday 23rd November at 19:00 in historical building will be the opera "King Roger", a masterpiece of Polish composer Karol Szymanowski, whose 140th anniversary of birth we commemorate this year.
The libreto was written in collaboration with his distant cousin Jaroslaw Iwaszkiewicz, who later became a well-known Polish writer. After several visits to Italy and Sicily, Szymanowski was fascinated by their culture and history. The Bacchae by Euripides, Plato´s Phaedrus and Symposium, as well as the pieces of Friedrich Nietzsche also became King Roger´s spiritual inspiration. The story of opera is the story of ruler Roger as a representative of social system, a world of rationality disrupted by mysterious Shepherd. With arrival of a modern prophet, not only the existing social order will be shaken, but Roger´s personal transformation will also begin.
Karol Szymanowski created a unique musical language in opera, based on various compositions and music styles. In a characterization of opposite worlds we can find the influence of modern music from the beginning of 2Oth century, exotic oriental motifs and also Goral melodies from around Tatras can be heard.
" The opera King Roger is experiencing an unprecedented renaissance all over the world. After being presented at Royal Opera House in Covent Garden or at the festival in Bregenz, this gem by Karol Szymanowski is being discovered by opera houses all over the world. I planned performance of this opera during  the period of time, when after the first two seasons since my arrival I gained the trust in orchestra, among singers, but also within the audience that found in our opera dramaturgy various musical works from Duchess of Chicago by Kálmán to opera Roberto Devereux by Donizetti, from Werther by Massenet to Tristan and Isolde by Wagner. After a forced postponement of King Roger´s premiere from May 2022, we are finishing the rehearsal process in the opera company and on 23rd November 2022 the semi-staged performance of this opera will be heard in Košice.", says the Opera Director, Roland Khern Tóth.
King Roger is one of the most remarkable operas in Polish opera literature. It has little conventional plot, no traditional love affair, despite of all this, it´s on of the most ecstatic works ever written. The minimalist plot takes place in Sicily, at the courtyard of historical King Roger who learns about the presence of a Shepherd – the founder of new religion. He asks his guards to bring him to the courtyard and they begin a complicated relationship that is a mixture of rivalry and philosophical discussion, as well as shared fascination and psychological play. It is the opera of extraordinary musical concentration and attraction, and it´s suitable even for a spectator, who is not a frequent opera-goer – it lasts only 80 minutes and yet it is a musical and dramatic performance, full of intense theatrical emotions. We watch a conflict that we all have to face – a battle between head and heart, between pleasure and mind, between Dionysus and Apollo. Szymanowski brings a beautiful oriental archaism to music, there are clear echoes of Strauss and Bartók in a partiture, its orchestration is monumental and complex and the opera brings an extremely strong transcendent musical ending at last.
King Roger is the work with wide intellectual and artistic horizons that is a result of Karol Szymanowski´s many trips to south of Europe and his interest in ancient and arab culture of which he heard a lot. The opera combines orient exotic and Dionysian myth that absorbed the composer even in the context of Nietzsche´s work. He talks about clash of two worlds ( intellect and instinct ) and different forms of religion. Finally, it shows and alternative order of power – a new image not of the King but Shepherd who shakes a throne and a state.
" Despite its peculiarity, King Roger is not a drama that simply ´plays itself ´. To understand, appreciate and enjoy this opera, an open mind, aesthetic feeling, intelligence and imagination is needed. Its potential lies in the rich possibilities of dramatic processing, artistic interpretation and power to hand over a personal message to every viewer.", says the Opera Director, Roland Khern Tóth.
Polish baritone Michał Partyka, the laureate of international singing competitions and soloist of the Paris Opera and the Grand Theatre in Warsaw, will perform in the main role. A young talented Croatian soprano Gabriela Hrženjak as Roxana.  Juraj Hollý, the Slovak tenor active on stages abroad as Shepherd. A domestic ensemble is represented by  Myroslava Havryliuk in a Deaconess role. Maksym Kutsenko as Arab student Edrisi and Michal Onufer plays a role of Archbishop. Directed by Anton Korenči, opera orchestra plays under the baton of chief conductor Peter Valentovič, choir trained by Ukranian choir master Iryna Demianyshyna thanks to the Art Support Fund, and Children´s Opera Studio led by Igor Dohovič. Partner of this production is the Polish Institute in Bratislava.
A second premiere will take place on Friday 25th November at 19:00.