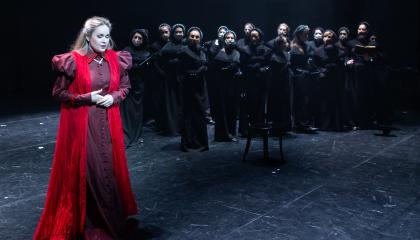 Opera lovers can look forward to another great experience. The last rehearsals of a new opera production Roberto Devereux by Gaetano Donizetti, are done, these days, on set in the historical building of the State Theatre Košice. The premiere of one of the top bel canto pieces was prepared by Košice Opera back in November. It was meant as a final farewell to the world renown Slovak opera diva Edita Gruberová and her unique career. The plan was however marred by the corona pandemic. The new production, unfortunately without Edita Gruberová, will be first available on-line at navstevnik.online hosting local soloists as well as renown opera names from Slovakia and form abroad.
"Madam Grúberová's inspiration and art remains with us. The production was built upon her professional experience. It was madam Gruberová who have done best to rediscover Donizetti's operas. Currently, we see them around the world. She follows preparations, we are in touch with her by means of Peter Valentovič. She keeps her fingers crossed for us and wishes luck for the whole team. Hopefully, we will be able to see madam Gruberová in person in Košice at the year end," says Roland Khern Tóth, Opera Director.
Roberto Devereux is the third Donizetti's portrait of Queen Elizabeth I. This strong character inspired him the first time in opera Elisabetta all Castello di Kenilworth, that was written by Walter Scott. The second time, he confronts Queen Elizabeth with Scotch Queen Maria Stuart, following Schiller's drama. And thirdly, in Roberto Devereux, he deals with her dramatic relationship to the Count of Essex. This third Donizetti's opera brings the most complex portrayal of Queen Elizabeth - she is a loving woman who, infuriated by betrayal, revenges and her remorse, finally, brings her that far that she gives up her life struggle. Her final aria 'Vivi ingrato a lei d'accanto' is one of the most appreciated bel canto arias.
According to the Opera Director, the new production reflects the time in which we are living. "We wanted to bring that uncertainty, we witness today in our daily lives, into the performance. What we see, is two worlds, historical and present-day world. The world in which Elizabeth dies betrayed by her love. As madam Gruberová said, the part is very difficult, as it contains great emotions. It is on love, and a woman who is betrayed. What on earth can be worse than betrayed woman who is in power," says Roland Khern Tóth.
Anton Korenči, Drama Company Director and Director of the production, confirms Roland's words: Plot of the opera is set in late reign of Queen Elizabeth, the Golden Age, this brings the feeling of the end of one era, an apocalyptic feeling. I think that mankind today is experiencing similar feelings. As if an era was over and we don't know what will be next. This was probably the largest interference between the present-day and the opera's libretto," says Anton Korenči.
The opera was rehearsed by Peter Valentovič and Košice Opera Ensemble. He has extensive experience with bel canto operas; and, actually, he often did many Roberto Devereux operas or concerts with Edita Gruberová. "Bel canto, just like this opera, is mostly about singers, bel canto – beautiful singing, and melody. Orchestra is rather accompanying. This opera is especially challenging, in particular for singers. Edita Gruberová, has made it famous. She sang it all over the world. It is rarely performed, precisely because of the challenging soloistic parts, soprano, mezzo soprano as well as baritone part. As far as the orchestra, Donizetti is capable to use amazingly colourful combinations of musical instruments. I believe that it will result into a beautiful work," says Peter Valentovič.
Roland Khern Tóth says that the production the viewers will soon have available online offers a great combination of local and guest soloists. The title character of Elizabeth will be performed by a rising star of Slovak opera, charismatic Eva Bodorová, who, in the meantime, has also become known in opera world abroad. A world-renown Russian mezzo soprano Elena Maximova will do the character of Sara. She did the biggest mezzo soprano roles at the most famous opera houses such as Covent Garden in London and La Scala in Milan. David Astorga, tenor from Spain, will portray Roberto Devereux. He has performed the role with great success in Teatre Massimo, Palermo. The viewers will also have a chance to see local singer Marián Lukáč as the Duke of Nottingham.
The Queen Elizabeth is such a great challenge for Eva Bodorová. "There a lot of coloraturas, from the beginning till the end, and so intensity is grading from the first tones. My character has, as if, two layers. I see the Queen and a woman; we see emotional outbreaks of both these Elizabethan 'faces' at the same time. I feel that Donizetti's music is very fresh, in recitatives as well as coloraturas. It allows me to show my inside, cordial, loving, and still sad. People must be able to see all that in my acting, so that they can experience it more fully. Emotions simply intertwin with melodies", reveals Eva Bodorová.
Local singer Marián Lukáč admits that he likes a lot to sing Donizetti, though his operas are less often presented. "The role of the Duke of Nottingham fits me a lot, it is truly close to my heart. I love to do character like this one – hurt, sad, and cheated husband, so that I can be jealous and release my emotions. I like it very much. I hope it will work," says Marián Lukáč. He admits that to do the production, for now, only as a recording, is a bit strange. "I am not used to cameras, I miss audience. I can only imagine that there is some audience. What a difference it makes with the audience. It is strange," adds Marián Lukáč.
Roland Khern Tóth, Opera Ensemble Director, says that prepared recording of the new opera production should be available at navstevnik.online, the portal of the State Theatre Košice, in May. According to him, the recording is based on the production, that has been completed, and its recording was done back in mid-December. "The audience will have a chance to see the same performance in the theatre at its live premiere in September. We are now waiting to see what the pandemic measures will be like and what are the options. When making the recording, we want to approach the opera in a slightly different way with the use of camera. It will be filmed almost like a film. In these hard times, we are trying, along with the artists, to make something beautiful. To make people pleasing production. Of course, we'll be happy the moment the theatre opens and welcomes audience. Though there would be only fifty visitors. We look forward to them," says Roland Khern Tóth.