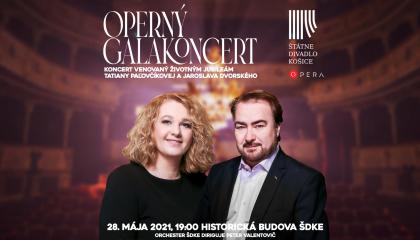 The Opera Ensemble of the State Theatre Košice invites all funs to a unique event - OPERA GALA CONCERT. A blend of opera and operetta melodies and Neapolitan songs on Friday, May, 28 at 07:00 p.m. on stage of the Historical Building of ŠDKE. The two opera soloists celebrating their jubilees, Tatiana Paľovčíková and Jaroslav Dvorský, will perform solo. They will be accompanied by the Orchestra of ŠDKE. It all conducted by Peter Valentovič. And there is a little surprise for our loyal spectators.
Jaroslav Dvorský reached his jubilee yet during the previous year. He wanted to celebrate it along with his audience in the theatre in December, and then once again in February. However, life went the other way. "I am very happy that the theatre allowed us to prepare our jubilee concert as soon as it was possible. We were very much looking forward to it. Originally, Táňa was supposed to be my guest, but then we decided to prepare one common jubilee concert. I somehow feel that I'm not sixty until I finish this concert." Laughs Jaroslav Dvorský.
The uniqueness of the Friday evening in the State Theatre Košice will be supported by the performance of the brothers Peter and Miroslav Dvorský who will celebrate along with Jaroslav. "I believe that the celebration will continue yet upon the concert. Miro is my twin brother, it is our common jubilee," says Jaroslav Dvorský. He says that the three brothers may bring some surprise to the concert.
The concert preparations took longer time than they originally expected. "I'll do my best to give the best performance. Though it may be difficult after all these lockdowns. We were visiting theatre to rehearse diligently, to keep ourselves in shape and be able to sing at show like this. The gala concert is kind of reward for us for all that long waiting," says Jaro Dvorský.
reveals that they managed to include, in the program of the concert, his favourite pieces he has not done so far. "For quite a long time I wish to sing Cavaradossi from Puccini's Tosca. And so, I proposed that we include Cavaradossi's aria from Part I that contains high B, one love aria, and one beautiful duet with Tosca from Part I," says Jaro Dvorský.
He will celebrate his jubilee while working on stage, but he doesn't mind. "If I'm to speak for myself, I love opera and I very much wished to sing. That is why following my studies as a sculptor and my work in Italy I came back to Slovakia determined to sing. Not for my name Dvorský, nor for fame. It has been growing inside me since my childhood. Peter showed us the beauty of singing yet when we were young. For me, it is not work but joy and something I longed for. I fulfilled my big dream," admits Jaro Dvorský.
The same way Táňa Paľovčíková Paládiová is looking forward to the celebration of her jubilee at work." "Many are not so lucky to get some pleasure of their work. I'm always looking forward to the theatre because I love singing. Singing is no hobby though... it is real work," says Táňa Paľovčíková. She adds that she and Jaro Dvorský chose the repertoire from what they like and what they can sing together. "Of course, we had to consider what sheet music we have available. We also chose such musical compositions that we will sing for the first time. I will sing aria of Lady Macbeth by Giuseppe Verdi and Jaro for example has never sung duet from Tosca. We tuned the program to be rather classic, we chose the repertoire our audience knows." says Táňa Paľovčíková Paládiová who in fact celebrated her jubilee in early May.