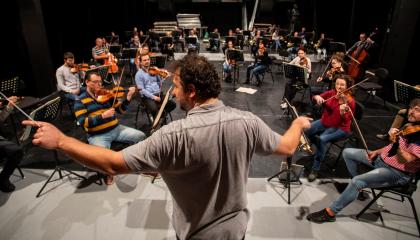 The world-famous opera diva and the first lady of soprano, Edita Gruberová, has decided to end her career. The originally intended farewell to the theater stage, which was to be the premiere of the opera by Gaetan Donizetti Roberto Devereux at the Košice State Theater, was thwarted by the COVID-19 pandemic. The Košice State Theater tried to find a replacement date for the originally planned end of November, but the general uncertainty of the pandemic era prevented this.
"We are very sorry that Edita Gruberová finally decided to end her career without a planned farewell in Košice due to COVID-19 and travel difficulties. She was really looking forward to it. Unfortunately, the world is different and in the current situation she decided to cancel her last scheduled performance," reported Roland Khern Tóth, the director of the opera of the Košice State Theater.
It is an immense honour for the Košice State Theater that the opera diva wanted to end  her career on its stage. Her career began more than fifty years ago in Banská Bystrica and for five decades her singing was admired by spectators in the largest opera houses and concert halls around the world. "What she has achieved and how she has been engraved in the history of world opera deserves the utmost respect. We are pleased that she has given us the opportunity and is still an inspiration for us in shaping Robert Deveureux's production  in our theatre," added Roland Khern-Tóth, who greeted the opera ensemble and the entire production team of the upcoming premiere with greetings from Edita Gruberová. "She wished us a lot of success during rehearsals and a successful premiere. Of course, we wish her good health and all the best. We believe she will visit us as soon as possible. Maybe even as part of the master courses we want to prepare in the future in the theater."
In connection with the decision of Edita Gruberová, the Košice State Theater reports that spectators who purchased tickets for the original dates of the first premiere and first reprise of the opera Roberto Devereux (27 November and 1 December 2020) may request a refund of the admission fee in writing through the e-mail to sales@sdke.sk, stating  the account number in IBAN format. The request must be accompanied by tickets in electronic form – scan or electronic ticket from www.navstevnik.sk.
It was Edita Gruberová in the figure of Queen Elizabeth who brought Robert Devereux back to the world opera stages with great popularity. The Košice State Theater is continuing rehearsals in preparation for Robert Deveureux's premiere on a new date, about which we will inform the public in a few days.