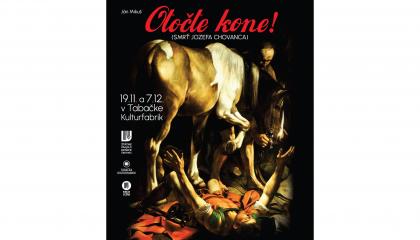 A second drama premiere of this season at State Theatre Košice will be unique  not only in its text but also in its location. As part of the INTERSCENE project that connects the State Theatre Košice and a cultural centre Tabačka Kulturfabrik will the Drama of State Theatre Košice, on Saturday 19th November at 19:00 in Tabačka Kulturfabrik, present premiere of the original play by Slovak director, screenwriter and actor Ján Mikuš – Turn Your Horses! with subtitle The Death of Jozef Chovanec, which won the State Theatre Košice Award as part of the Drama 2020 Competition.
A post-dramatic vision called Turn Your Horses! speaks in an urgent language about brutal and superficial reports of our recent history. The story of murdered Jozef Chovanec and trip of a former prime minister to the opera in Dresden become victims of theatrical poetry. A slice of world from one airport hall and a spiritual message of biblical figure, St Paul, is unique contribution to discourse of contemporary Slovak drama.
"I wrote text of Turn Your Horses! in a pandemic year like many authors that were at home. I have to admit, that I wrote it very quickly – within a few days. Maybe I was writing out of recession that I would make such a directing concept, which I would like to imagine in a very large theatre. And I tried to write my audio-visual film visions in it as well. The text is actually a concept of my previous experiences that I acquired before. I wanted to talk about the events from recent history that got lost. I think that drama could also be used as a kind of a memory archive.", says Ján Mikuš, who has worked with several Czech and Slovak theatres. For example, he was a guest in well-known theatres in Brno – HaDivadlo, Goose on a String Theatre or Polárka Theatre. He staged Shakespeare´s comedy A Midsummer Night´s Dream in 2013 at the State Theatre Košice.
According to Mikuš, his play is the text that leaves the stage and starts using modern technologies, especially live video. " It is technically demanding a bit, of course, so I believe that we will succeed, we will try to experiment with it and that audience will perhaps have a different type of experience than what they are used to.", adds Mikuš.
The dramatic text is written very difficulty and its author realizes that it will probably never live to be staged as it was originally written. " So I thought, maybe I should give myself some challenge in directing and my challenge was to bring people together. Not to enforce my vision but to try to bring together people I like and have an utmost respect for. And I am glad that State Theatre Košice also came with something similar, that it associated with alternative space of Tabačka Kulturfabrik as part of the INTERSCENE project. My production should also be about the fact that people from different worlds meet in it, spend time together on stage and experience some emotions.", explains Ján Mikuš.
Apart from the actors of Drama of State Theatre Košice Lívia Michalčík Dujavová, Matej Marušin and Jakub Kuka, guests in the new production are Zuzana Psotková and Zuzana Burianová as well as member of the opera choir Peter Raši and students of Conservatory on Timonova Street Barbora Beňatinská, Šimon Širilla, Nina Štafuríková, Katarína Grohoľová, Simona Šereš, Karolína Šamajová, Šimon Kaiser, Filip Tomaščík, Juraj Štefanišin, Zoja Kamila Durkajová. The performance will be made special by live mmusicians from the opera orchestra Eduard Plachetka, Barbara Zita Fekete, Ľubomír Kristan, Ivana Petrishak together with composer Patrik Korinok and a guest Eva Marenčinová.