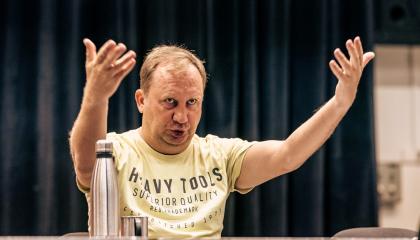 The Small Stage of the State Theatre Košice presents on Thursday, October 14, at 07:00 p.m. historically the first stand-up show called Navekyamen (Stand-uP StanaP.). The show was tailor made by the director and author of the text Martin Čičvák for Stanislav Pitoňák who gave us interview.
Speaking about stand-up show, one usually imagines a comic speaking to the microphone trying to entertain guests in a bar. Is it really so?
Partially yes. It is really so. The only difference is that our topic is given in advance. And not only the topic. It's not me - Stano Pitoňák -but the character that has been created by Martin Čičvák. He himself says, that when he was writing the show, he got inspired by the way I look, I speak, and how I behave. Everything else is a true stand-up. One is standing and speaking.
What is difficult about stand-up genre for an actor who normally does theatre? What are the biggest challenges?
The crucial challenge is that there's nothing to help you. You simply cannot hide. You're on stage, you go.
It is well known that you duly prepare for your characters. Let's mention your Hitler character in the adaptation Doma u Hitlerovcov (At Hitlers'). What preparations you did to portray a priest, of Košice parish, who onhis way to give the last rites, gets lost and finds himself in a theatre.
Very simply. When I sobered up after a preview performance of the operetta Duchess of Chicago, it was in July, I started to learn texts and I've been learning up to now. I believe I'll be able to do that by the planned premieres. And how did I prepare for the character of a priest? Each of us, we have our own experience, we all know it from the childhood when we had to hang in there, the masses and all that. It sticks to you. One doesn't even know what he has in his subconscious and memory.
When rehearsing this genre, is it possible to discover what people will like? Or you remain open to some changes during repeats?
For sure, we will not make any significant changes. Martin Čičvák did similar thing, a different character however, in Brno. He worked with one actress. So, he has some experience with what people might like, and how much they can bear. We have an idea on how long the show should be, and we expect some responses. But that's probably all. I'm sure, we will not add any extra content or get tougher after the premiere. We will only leave up to the viewers to digest it.
The title and description itself reveal the topic. It is related to forgiveness, confession, and probably also admitting own faults and sins. What a person you are in this regard. Are you able to confess or forgive?
Absolutely, because it is the only way how to move further. Being able to admit mistake and forgive to yourself, oh what an idiot I was, it is the only way how to move further. Otherwise, I would keep stagnating, and then I can only pretend what a star I am. And that's all probably.
The first months of the new season are really hectic in the theatre. Premiere by premiere, in the meantime repeat performances that were not presented due to the pandemic? This is quite challenging for the actors?
I've been so crazy busy since March. At first, we did three premieres, soon after that I started to learn Navekyamen. That time, things started moving and since March I've been practically totally busy. But to start acting, that was really strange. It was difficult to put myself together. A terrible burden, kind of responsibility, I got out of it. Do the repeat performance, be in time for the show, see audience back; at the beginning I was a bit shocked.