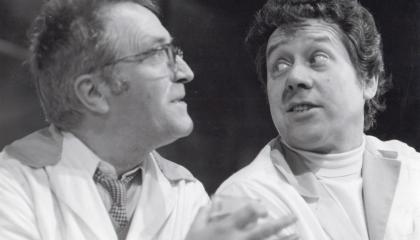 With his unforgettable humour he entertained generations of theatre goers, and film and TV viewers. Though he was born in Turčianske Teplice, helater moved to Košice to study at Vocational School, however, he ended up at Janko Borodáč's theatre and in his apartment as well. He left an indelible mark in the history of the theatre. Legendary Marián Kleis Sr. would celebrate his 95 years, on Friday September 10, 2021.
Born on September 10, 1926 in Štubnianske Teplice (today Turčianske Teplice) he started acting already as a child. When he came to Košice, to study at the local vocational school, he met with Janko Borodáč and that changed his destiny. "I did amateur theatre already in Martin. Here in Košice I played in the amateur theatre Veritas. Once they did Najdúch and they invited me to come to see their rehearsal in the lobby. So, I went there, and they hired me. I was still visiting secondary school, already then, I started acting," recalls Marián his acting beginnings in then newly founded Košice Theatre. He mentioned that in an interview for Korzár daily fifteen years ago at the occasion of his 80. In the State Theatre Košice (then called National Theatre Košice),he spent almost 60 years which is unbelievable (excluding 2 years of his mandatory military service). He did almost 200 characters. The lastrole he did in 2005 when he was 80. The play was called Vždy, keď sa holím. Two years later he passed away. Marián Kleis Sr. died before Christmas on December 18, 2008 at his 82.
He was discovered by Janko Borodáč who hired him for Košice theatre. Lot more, their relationship was by far more profound.Young actor Marián Kleis sublet a room in the apartment where Janko Borodáč and his wife Oľga lived. "I have never studied acting, but during the award ceremony, Janko Borodáč Award, I always remind myself that I had it as the first one. I actually lived in his apartment. He was so nice. I can recall that on the first day of the month, we were sitting there, and he looked over his glasses and said: "Has he paid"? And I haven't. Instead, I received money. Mrs. Borodáčová gave me money that I buy clothes and ties. She was taking care of me," he said, with his particular humour, in the interview.
In the theatre, he is best known mainly for his comic characters, he enjoyed great success with the audience, the characters such as Geľo Sebechlebský (in Geľo Sebechlebský), Ruprecht (in Rozbitý džbán), Rohoň (in Dobrodružstvo pri obžinkoch), Lúpežník (in Lúpežník), Matiáš Bešeňovský (in Reštavrácia), Beppo (in Škriepky v Chiozze), Mosca (in Volpone) or Alfréd Cicák (in Žobrácke dobrodružstvo). Time to time, he got opportunity to show his qualities in dramatic characters such as Roderigo in Othello, Bifffin Arthur Miller's dramaDeath of a Salesman, Peer Gynt or the Duke of Cornwall in King Lear.
His comic talent did not go unnoticed by television and film makers. His best films are Ján Lacko's films on football funs Šťastie príde v nedeľu (1958) and Skalní v ofsajde (1960) where he starred along with František Dibarbora, Ivan Mistrík or Anton Mrvečka. His filmography includes more than fifty films, TV films, and TV series. Though film makers called him to move in to Bratislava, he stayed in Košice. I got several offers. I even had the letter of acceptance, but I said to myself, and, it was true, that if they need me, they will always find me in Košice. Finally, I filmed so much, probably as the only eastern actor. I do not claim that it was because I was so good. But I represented a certain character type. And, film needs this character. I always did kind of mischief-maker, I was chasing women," explained Marián Kleis Sr.
He met with the woman of his life in the theatre. Actress Elena Kohútová left Martin theatre for Košice, she was invited by Janko Borodáč in 1946. When she came, the two, Elena and Marián, fell in love. From 1950, they stayed together side by side until the end. They had sense humour, the same kindof humour.They did lots of humorous scenes which they showed at variety shows which were then popular. They also worked for Slovak Radio many years. Mrs. Elena did legendary radio show called Maratón and Marián contributed to the show with his scenes. Marián Kleis Sr. often did 'skirt chaser' roles, but in his real life he had an interesting dispute settling method. He used to say: "making up is so nice... When I felt like I would like to make up, I did something wrong, mischief, so that we could make up again. Then I could tell stories", he laughed in one of his last interviews.
His stories and jokes were legendary. He entertained his colleagues at work, spectators in the theatre, audience listening to the radio, but most often he used his sense of humour in his every-day life. "Everybody knows me as an entertainer. Even policemen. When they stopped me for speeding, they wanted me to say a joke.And then they let me go,'recalled Marián Kleis Sr.,his memories fifteen years ago.
I've always been good with my hands and crafts since my young age. "I became skilful probably in Ružomberok where I studied vocational school – vehicle mechanic. At that time, we were true mechanics, not like today mechanics – exchangers. I call them like this, because they just exchange everything. Then, we had to be able to make spare parts, including screws. When we were repairing an English car, for example, we made every single screw. We made a generator for passenger car and we tried it whether it works well by breathing into it. Can you imagine our headache? I like to work with wood. That's why I studied wood industry engineering here in Košice. I studied two years, then they 'democratically'expelled me from school. They didn't call it cleansing, instead they called it democratisation of universities," he spoke about the beginnings of his second passion and it was wood. I made everything from wood, from furniture to garden equipment. Everybody who visited his house, in Vieska – Družstevná pri Hornáde, could admire that. He had amazing and well-equipped craft workshop. He enjoyed to work there until his last moments. His skilful hands were also used by the theatre, along his acting he also made different special props or parts of stage scenery, even the first stage turning platform.
Fortunately, Marián Kleis Sr. and his unforgettable acting is recorded in films stored in TV archives.For sure, he is now entertaining with his jokes in actors' heaven.
On the photos: Marián and JozefHodorovský in the comedy Žobrácke dobrodružstvo (the State Theatre Košice, 1971),and Marián and Sylvia Hronskáin the comedy Rozbitý džbán (the State Theatre Košice, 1954), and in the film Šťastie príde v nedeľuwith Anton Mrvečka and Ivan Mistrík.