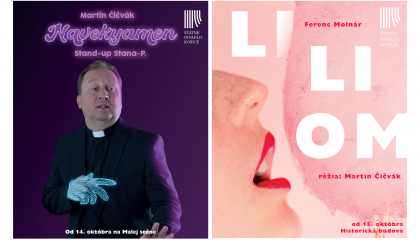 The Drama Company of the State Theatre Košice is ahead of double premiere. On Thursday, October, 14, it will be the first ever presented stand-up in the theatre. In the Small Scene ŠDKE, the audience may see a theatre adaptation of the text by Martin Čičvák called Navekyamen (Foreveramen).One day later, the Historical Building ŠDKE presents a world renown drama by Hungarian playwright Ferenc Molnár, a tragicomedy Liliom. Martin Čičvák, native of Košice and established in Prague, directed both the titles.
Navekyamen with its subheading Stand-uP StanaP., hints that Čičvák chose Stanislav Pitoňák, Košice drama star, to interpret his play. Stano P. does the stand-up, all alone on stage, he appears in the role of the priest of Košice parish on his way to give the last rites who gets lost and finds himself in a theatre.Confession comes before forgiveness on the deathbed. The question however is: how sincere the confession is and who hears and who confesses?
It is interesting that Molnár's drama Liliom comes back to Košice after 95 years. Then in 1926, Východoslovenské národné divadlo performed the drama in Košice in Czech language. Liliom brings a tragicomic story from the suburbs. The main character, a carousel operator Andreas Zavoczký, called Liliom, a tough guy who has always attracted women - from poor girls to rich ladies. When he finally finds a true love, he loses his work. What come next: crime, guilt, punishment, and a chance...
Molnár's drama was first time premiered in 1909. Several literary historians agree that Molnár himself is the foreshadow for Liliom. His dramatic work is very rich and it is typical for its characteristic humour. "He is the only Hungarian playwright whose complete work is reviewed by international theatre critics and audience and there's general agreement about him. His way to success was no doubts paved by his skill to entertain audience. But there's more than that. There's something more valuable about him what makes him literary remarkable, beyond mere comedians or entertainers. He brings the view of a man that is absolutely original, characteristic of him exclusively. Formal means to depict this very individual view are purely his," Aladár Schöpflin, literary historian, critic, and translator, wrote about Molnár. It is little surprise that the play Liliomhas been regularly staged around the world from Budapest to New York for more than hundred years since its premiere.
Just as two years ago in Shaw's Pygmalion, director Čičvák once again casts guest actor Marek Geišberg as the leading character Liliom. The woman of Liliom's life is portrayed by Alena Ďuránová, Marika Táňa Poláková appears as her girlfriend. And Tomáš Diro, Jakub Kuka, Dana Košická, Katarína Horňáková, Michal Soltész, Matej Marušin, Martin Stolár, Andrej Palka, František Balog, and Lívia Michalčík Dujavová appear in supporting roles. Stage design was done by Katarína Holková andcostume design is by Judit Pusztai. Laco Cmorej was responsible for movement cooperation. Music for the drama was composed by Peter Tóth who also appears on stage as Verklikár (Organ-grinder).