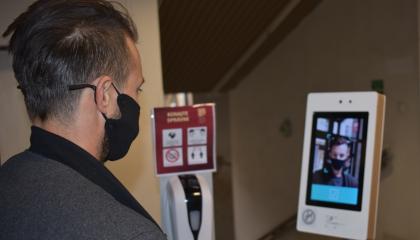 As of this morning, as part of the preventive measures in the Košice State Theater, the field testing of employees using antigen rapid tests has begun.
This is one of the measures taken by the Košice State Theater crisis management team under the leadership of the CEO Ondrej Šoth in connection with the occurrence of the coronavirus. At the same time, the theater installed SANOstation scanners of Slovak design and from a Slovak manufacturer at the entrances to individual areas, which, in addition to measuring body temperature, also record the correct use of masks and draw attention to the need for disinfection.
In the coming days, the theater will also purchase germicidal agents that will serve for the rapid disinfection of rehearsal rooms and other areas. All these measures are aimed at enabling the artistic ensembles to return to work and resume the rehearsal process after a ten-day break from Monday 4 October.
This will also take place under stricter hygiene and safety conditions, with the creation of corridors, so as to minimize the contact of employees outside their set or department.
We believe that thanks to these steps we will be able to create a safe space at the theater so that, in the event of easing restrictions for mass events, we are ready to offer you, our viewers, our art again.