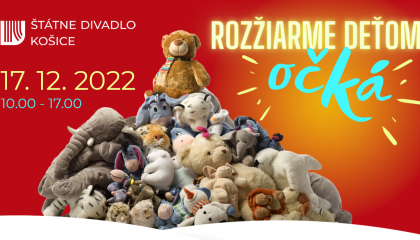 Have your children or grandchildren grown up? Do you have toys hidden in the corners of your home, that no one will play with anymore? Or do you want to show a big heart and light up eyes of children that are not that lucky, or fate won´t allow them to have a happy Christmas.  and find desired toys undreneath the tree?
Let´s light up children´s eyes together with the State Theatre Košice and put toys under theatre´s Christmas tree in historical building of the theatre on Saturday, 17th December from 10:00 to 17:00 o´clock. They will certainly not end up in trash, but will bring the joy to children in need.
We will appreciate every gift brought. For your children there will be creative workshops prepared where they will make Christmas decorations.