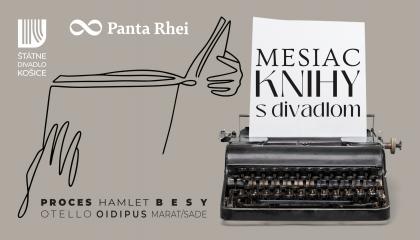 For years, the month of March has been associated with the arrival of spring and also with a book. We have prepared traditionally non-traditional Book Month with theatre for you. The State Theatre Košice brings you a popular competition with Panta Rhei bookstores, but also a special 1+1 promotion for selected performances in March. You can win interesting book prizes in addition to pleasantly spent evening.
Buy tickets for the selected March performance at our Ticket Office, visit the theatre and drop your ticket together with contact information into the box set in the theatre foyer. Five of you will be gifted with interesting book titles. The draw will take place on 12th April, before performance of Demons.
Important notice:
By dropping your ticket into the box, you consent to the processing of your personal data ( e-mail address, name, surname and phone number ) in accordance to EU General Data Protection Regulation (GDPR). The State Theatre Košice will handle your personal data accordingly with regulation mentioned above, will not provide it to any other recipients and will not transfer it to third countries.