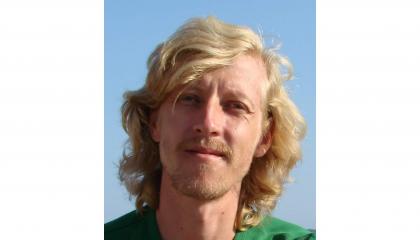 The invitation of Ballet of State Theatre Košice has been accepted by another important personality of a dance world, a dancer, choreographer and teacher Milan Kozánek. As part of the joint project of State Theatre Košice and Tabačka Kulturfabrik the "Interscene", the workshop "Milan Kozánek: Contact Improvisation" led by him, will take place during the next weekend at Tabačka Kulturfabrik. During the week from Monday 7th November to Friday 11th November he will lead ballet trainings.
" I see invitation of Milan Kozánek to the ballet company for all week pedagogical training of contemporary dance techniques as a new beginning of possible collaboration. As a teacher, he has extensive experience in various dance techniques where he uses the synthesis of many approaches in dance. One of the basic elements that he uses in classes is his knowledge of movement anatomy and functionality of the body. The Ballet of State Theatre Košice has very rich repertoire of various dance styles from classical and folk dance to contemporary ballet, so I consider his visit very beneficial to learn more about your body and its qualities. Thank you for accepting my invitation.", says Andrej Petrovič, Art Director of contemporary ballet.
Since graduating from The Academy of Performing Arts in Bratislava, Milan Kozánek has worked as a dance teacher, choreographer, dramaturg and theatre director. He developed his own method of research and pedagogical work through more than twenty-five years of teaching and researching in educational institutions such as Salzburg Experimental Academy of Dance (SEAD), Tanz Quartier Wien, Konservatorium Wien University (Austria), Northern School of Contemporary Dance in Leeds (Great Britian), TIP-School for Dance, Improvisation and Performance in Freiburg (Germany), University of Calgary (Canada) and many others.
In 1996 he founded the Artyci Dance Company, together with Zuna Vesan Kozánková. They have created twelve dance performances that were presented in Slovakia and abroad (Germany, Austria, Poland, Czech Republic, Hungary, Canada, Thailand, China, Taiwan).
Since 2010 he has been developing intensive artistic collaboration with creators and theatre performers, who are looking for a connection and intersection between physical theatre, movement, text, voice and singing. He was a part of many research projects with theatre artists from artistic groups such as Studio Matejka (PL), Song of the Goat Theatre (PL), Res Ratio Network (GR), Honey and Dust (SK). Since 2017, together with Andrej Kalinka, he leads the artistic group Honey and Dust. The main theme and fascination in his artistic and pedagogical work is a human. He combines  knowledge of anatomy with knowledge of Eastern philosophies and Taoism.