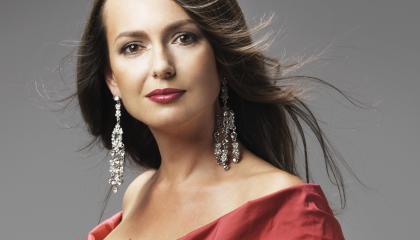 The last performance of opera Tosca in this year, on Monday 12th December, will have an exceptional guest in the role of Floria Tosca – the excellent Slovak soprano Andrea Danková, whose singing has already been admired by audiences in the world's most famous opera houses. For the first she presented herself to the audience in Košice in Birthday Gala Concert of Peter Dvorský. This time you will be able to see her in a wonderful production of one of Giacomo Puccini's most performed operas.
Andrea Danková studied singing at the Conservatory in Žilina, also at the Academy of Performing Arts in Bratislava and later in Rome. She won awards at several international competitions in Italy ("Cascina Lyrica" in Pisa or "Totti dal Monte") and received scholarship from the Club of Friends of the Vienna State Theatre. She won the M. Schneider-Trnavský competition in Slovakia.
She is a regular guest on important foreign opera stages: she performed at the Teatro alla Scala in Milan ( Jenůfa ), Teatro La Fenice in Venice ( Micaela ),Teatro Comunale in Bologna ( Liu, Amélia and Jenůfa ), at the San Francisco Opera ( Micaela and Liu ), Teatro Real in Madrid ( Micaela, Káťa Kabanová and Jenůfa ) in London ( with the London Symphony Orchestra as Desdemona and Micaela – alongside tenor José Cura), at the Opera National du Rhin in Strasbourg, on the stages of Teatro Reggio in Turin, La Monnaie in Brussels and Teatro Colon in Buenos Aires (Káťa Kabanová), at the Deutsche Oper Berlin (Jenůfa) then at the Opera Graz (Floria Tosca and Jenůfa), at the Teatro National de Sao Carlos in Lisbon (Ortlinde a Voglinde), at the Teatro Massimo in Palermo (Jenůfa), at the Opera Lyon (Mimi, Micaela), or at the National Opera Bucharest (Amélia). She also appeared on other foreign opera stages (e.g. Tokio, Stuttgart, Dijon, Treviso, Rovigo, Santander, Cordoba and others). She collaborated with conductors of world names such as Sir Colin Davis, Daniele Gatti, Lothar Koenigs, Marco Armiliato, Ivor Bolton, Jiří Bělohlávek, Kent Nagano, Juraj Valčuha. She debuted as Violetta in production by the famous Franco Zeffirelli at the Teatro Verdi in Busset and Ravenna in a  musical staging by Placido Domingo. As Káťa Kabanová and Jenůfa she appeared in productions of renowned directors – Robert Carsen ( Madrid, Strasbourg, Palermo, Turin ) or Alvis Hemranis ( Brusel, Bologna ), she also collaborated with Hugo de na ( Venice, Bologna, Treviso ), Graham Vick (Lisbon) or with Grisch Asagaroff ( Bucharest ).
In a field of concert repertoire she also performed with important ensembles: the London Symphony Orchestra, the London Philharmonic Orchestra, the Bayerische Rundfunk in Munich, the Deutsche Oper Orchestra  in Berlin, the Teatro Maggio Fiorentino Orchestra in Florence, the Lisbon Radio Symphony Orchestra in Lisbon or the Bern Symphony Orchestra – under the baton of world famous conductors such as Sir Colin Davis, Myung-Whun Chung, Kent Nagano, Vladimir Jurowski, Tomáš Netopil, Zdeňek Mácal, Jiří Kout, Mario Venzago or Gabrielle Ferro. She also performed at the Musikverein in Vienna,  festival in Ravenna or at the famous Carnegie Hall in New York.
In making the recordings she collaborated with Gerd Albrecht and Kolin Symphony Orchestra WDR (Dvořák: Jakobín) and Tomáš Netopil ( Janáček's Glagolitic Mass ).
She presented herslef to the Slovak audience at the Slovak National Theatre Opera as Mimi, Micaela, Liu, Desdemona, Violetta, Amelia, Elvíra, Elena, Mařenka, Luisa, Elizabeta, Tosca and Aida. As Mimi and Elvíra she also performed at the National Theatre in Prague.