An original Slovak play dedicated to the 100th anniversary of Slovak professional theater
Premiere

Lenght of Performance

145 minút

Place of Performance

U vás doma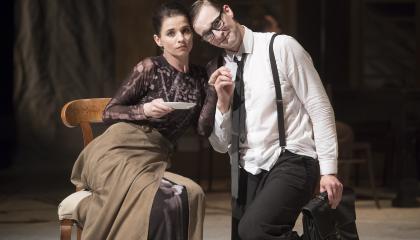 Janko Borodáč had a significant influence on the development and direction of Slovak theater, it became part of important political turning points. His life story is not only the story of an artist, but also of a man and a teacher. He is a creator and bearer of a legacy that every theatrical generation has had to deal with. Finally ours has had to do so, too.
The original play will be created by Slovak authors Karol Horák, Michal Ditte, Michal Baláž. Each of them is a representative of a different generation and poetics, and therefore, they will bring different views on a personality so crucial, dramatic but also controversial. It will be a return to the roots, it will be a return to the theater, it will be a return to relationships.
With this production, the State Theater in Košice continues in the dramaturgical line, in which it explores the history of the city and the place and personalities of Košice.
| | |
| --- | --- |
| Directed by | Júlia Rázusová |
| Concept  and adjustment: | Júlia Rázusová |
| Professional consultant: | Peter Himič, Karol Mišovic |
| Dramaturgy: | Peter Himič |
| Dramaturgy cooperation: | Miriam Kičiňová |
| Scene and costumes: | Markéta Plachá |
| Music: | Michal Paľko |
| Author of Stanislavský's bust: | Jozef Kurinec |
| Inspector: | Ingrid Dlugošová |
| Whisperer: | Janka Popovičová |
| | |
| --- | --- |
| Borodáč: | Matej Erby, a.h., Martin Stolár |
| First: | Róbert Šudík |
| Oľga, Oľga Borodáčová: | Alena Ďuránová |
| Solenyj, Father, Actor, Oskar Nedbal, Andrej Bagar, Receptionist: | Stanislav Pitoňák |
| Irina, Actress: | Tatiana Poláková |
| Máša, Actress: | Adriana Ballová |
| Nataša, Marie Laudová, Mother, Actress: | Ľuba Blaškovičová |
| Veršinin, Actor, Albert Pražák, Antonín Drašar, Gašpar Arbet: | Jakub Kuka |
| Tuzenbach, Jaroslav Kvapil, Actor, Doctor, Recepcionist, Concierge, Stanislavskij: | Juraj Zetyák |
| Andrej, Jaroslav Hurt, Otakar Novák, Actor, Ján Jamnický: | Tomáš Diro |
Press news
Napísali o predstavení: