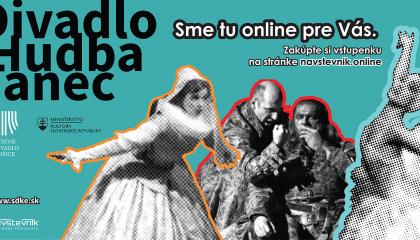 Excellent news for theater lovers. Theater's back. We will meet directly at your home on TV or computer screens through the project of the Ministry of Culture of the Slovak Republic, the National Educational Center and the reservation portal navstevnik.sk entitled Online Živé umenie (Online Live Art). On Friday, November 20, you can visit the Košice State Theater remotely. We offer you an archive recording of the production Mastný hrniec (Greasy Pot), a classic joke about ambition and empty careerism from the pen of Július Barč-Ivan.
A virtual ticket to a special and comfortable place anywhere in your home can be purchased through the navsevnik.online visitor portal, which will generate your personal code to connect to the stream of your chosen online event.
The Košice State Theater will offer you recordings of older productions from the archive and the current repertoire in the online space in the coming weeks. But that's not all. In the online space, virtual premieres will also have completely new chamber performances, which in recent weeks have been jointly prepared by the opera, ballet and drama in special Covid dramaturgy as part of the Svedectvo MMXX (The Testimony of MMXX) theater project.
UNCONVENTIONAL TIMES = UNCONVENTIONAL CONNECTIONS. The time we live requires openness, cooperation and new forms. The fusion of opera, ballet and drama will bring a series of chamber and unconventional evenings on the stage of the Historical Building of the Košice State Theater. There will be Mahler's music with Alma and Gustav Mahler's letters, Wagner's opera Tristan and Isolde will meet with reading from Thomas Mann's works about Richard Wagner, the cross-section of Verdi's La Traviata will introduce you to the famous model, La Dame aux Camélias by Alexander Dumas fils.
A special guest, ballet megastar Vladimir Malakhov will perform together with soloists and choir of ballet An evening of classical dance composed of individual choreographic parts of the classical ballet repertoire of the theater, but also choreography of world ballet classical literature such as Soloists Swan Lake, Sleeping Beauty, Flames of Paris, Nutcracker, Giselle and others. Special guest of the show - Vladimir Malakhov.
The evening of modern dance will not only be a selection of original choreographies from the creative workshop of ballet soloists, but will also open a look behind the scenes of the newly prepared production of the Nureyev ballet. Vladimir Malakhov will perform Nureyev's role.
Thematic Večer ľudového tanca (Evening of Folk Dance) will be a celebration of the ethnic diversity of Slovak folklore. The viewer will have the opportunity to see excerpts from the extremely successful performances Rodná zem (Birth Land) and Jánošík, and from new original choreographies prepared for this evening.