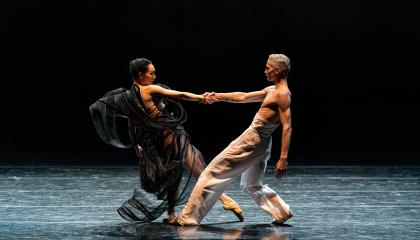 You can experience an exceptional ballet evening in Košice on Tuesday, 25th April. Dancers of the SND Ballet will present themselves in the Historical Building of State Theatre Košice with TIMUĽAK / LIANG / DAVIDSON, performance. It combines three dance pictures with the signature of choreographers Lukáš Timuľak, Edwaard Liang, and Craig Davidson, unified by neoclassical style beside perfectly mastered craft.
Neoclassical ballet style gave up the descriptive theatrical setting and dramatic expression of full-length ballets of the previous era and put pure movement in the foreground, it is sophisticated, beautiful in its simplicity, modern with its purpose, and all together, preserving the aesthetics of classical dance legacy. New dance expression brought certain freedom to academic dance. Thanks to it, choreographies are very diverse in style.
Diversity is also present in the presented program composed of three choreographies from two successful productions of SND Ballet, presenting the first soloists - Olga Cheplanova, Tatum Shoptaugh, Viacheslav Kruť, soloists - Adrián Szelle, Reona Sato, Viola Mariner, demi soloists - Ilinca Ducin, Kristian Achberger, Damián Šimko, Raphael Schuster, Gerardo Gonzales, Sarah Millner, Seiru Nagahori and members of the ballet company - Veronika Yungová, Siina Ailasmaa, Marián Kuchar, Anna Vágnerová, Ema Dobešová, Ana Carolina Pitta de Carvalho, Oleksandra Petrova, Giorgio Perego, Mergim Veselaj, Aliaksei Kavaleuski, Teodoro Caravati, Rio Nakata and Emanuele Ferrentino.
Choreography TWO from the pilot edition of the last year´s successful project, FASHION BALLET, will open a unique ballet evening. It combines two phenomena - the ballet world and the world of fashion. The intimate duet is an expression of connection, inseparability and rather complementary than opposing forces, forming a whole that is much more than a summary of its parts.
The second choreography of the evening is MURMURATION from the production SIGNATURES OF THE MASTERS. One-act dance impression is an artistic reflection of a natural phenomenon in which the flocks of migrating birds create fascinating formations. Murmuration - changing patterns in the sky of hundreds of feathered individuals are an eye-catching kaleidoscope created by their merging into dynamically shifting entities. Dance pictures happening on stage is the choreographer´s artistic depiction of those in the sky. In this bird ballet are performers´ moves carried by air swirls. It is kinetically exciting and also spiritually deep. An individual need for closeness and fellowship fills the content level of a stage composition, dancers become air nomads, and their animal nature is by choreographer cultivated into an original dance language.
The third choreography of the evening ENTROPY is also from the production SIGNATURES OF THE MASTERS. Pure dance in its naked form stands in the foreground of the ballet miniature. Abstraction of the choreography shows almost unlimited movement possibilities of the human body using a vocabulary that derives elemental material primarily from the classical dance technique but gives it a twist of the 21st century. An aesthetically appealing physical materialized in the moving sculpture of performers. Entropy represents a complex ballet work, but its belonging to conceptual art is equally important, where the author´s idea is more relevant than its form. It is an author's view of our present, the flow and perception of time, and everyday life confronting us with different circumstances and emotional states. It looks for answers to the questions of how we adapt and cope with the changes in our being.